Planning a Warp Pattern Using a Spreadsheet
A few weeks ago, I took on the challenge of weaving one scarf in only one day. The focus of my video was to show how fast weaving a scarf could be on a rigid heddle loom. However, I did not cover the pattern of the scarf that I was making and this is why I'm making this tutorial today. I thought it was a good opportunity to explain more in depth how I'm planning my warp pattern using a spreadsheet.
Disclaimer: Links included on this page might be affiliate links. This means that if you purchase a product or service with the links that I provide, I may receive a commission. Please note that there is no additional charge to you. This helps me keep going and create more tutorials.
The Yarn
For this project, I used Lion Brand yarns from their Heartland collection. The first color is grey and the actual name is "Great Smoky Mountains". I also used golden yellow which official name is "Canyonlands". And the last one but no the least is the pink or as they call it "Capitol Reef". I love those colors; they are so rich and shiny. I also love their texture! Very soft and perfect for a scarf.
In total, I used one whole ball of grey and a little bit of a second ball. I also used one whole ball of golden yellow and a little bit of a second ball. I used just a little bit of the pick yarn, so one ball was enough.
You can get the same yarn here: https://shrsl.com/3yk0p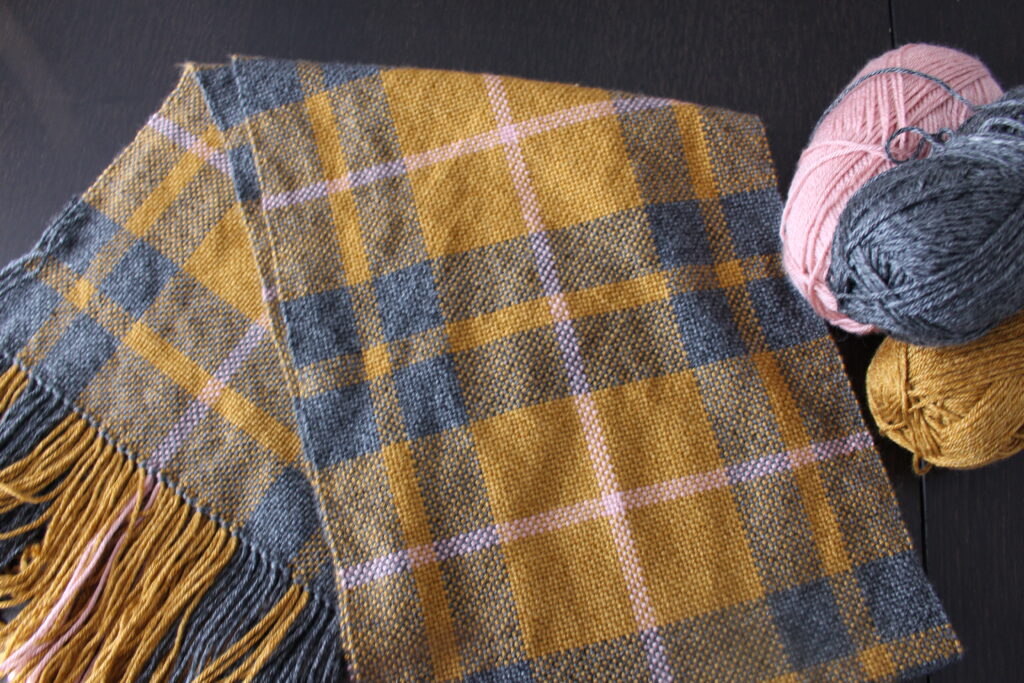 Why Using a Spreadsheet?
There exists weaving software that can also help you plan a pattern. However, most of them cost money and I find that they are not all so user friendly. As a beginner, sometimes it is best to use a tool that you already know and for me, it's a spreadsheet.
In this tutorial, I'm using Excel Spreadsheet, mostly because I already had it on my computer. Please note that if you do not have Excel, you could use Google Sheets, which is a free service.
The Limitations of a Spreadsheet
As excel is not a weaving software, it does have some limitations. Indeed, we cannot plan the warp and the weft at the same time. This is because Excel, or any other spreadsheet, is not designed to take into account the interlacement of the warp and weft threads. If we were to try to change the colors of the rows, we would also be changing the colors of the columns. Still, using a spreadsheet allows me to test out different color combinations. It also gives me a visual of the proportion that each stripe will have. I find that it works great for simple rigid heddle loom weaving projects and this is why I'm planning my warp pattern using a spreadsheet.
Preparing the Spreadsheet
First of all, I needed to prepare the spreadsheet. I wanted to determine how many ends my project will have. For this project, I decided to weave a width of 16" with my 7.5 DPI heddle. This means that I would have 120 ends. I then numbered 120 columns in my spreadsheet. After that, I adjusted the size of those columns to have a width of "3". This makes them look squarer and more like the threads. After this step, I still couldn't see all the columns in my screen so I had to zoom out. If this had not been enough, I could have also divided the thread count by 2. Then each column would have represented one loop, so two threads.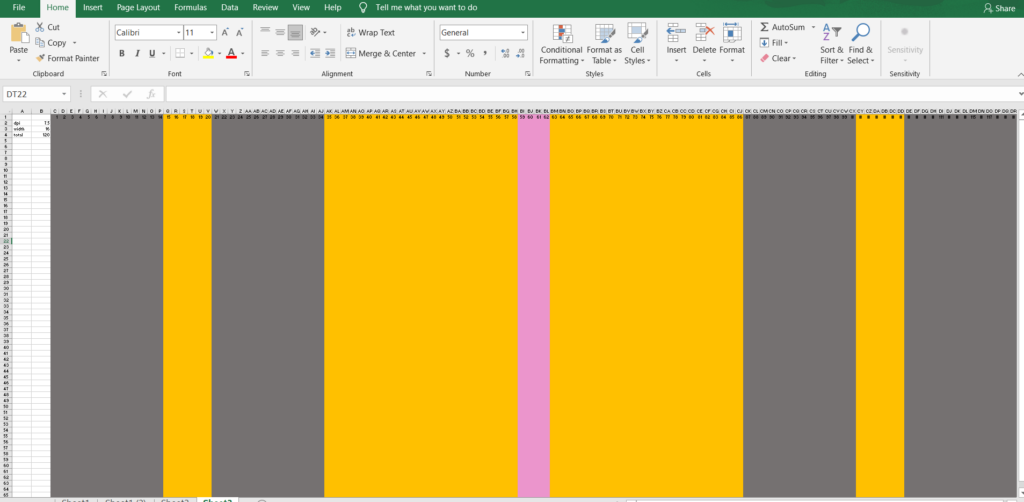 After that, the fun began! This is when I played around a lot with colors and I tried different things. When planning a symmetrical project like this one, I like to start from the middle and make my way to the edges.
The Pattern
Here's the exact threads count for this project, from right to left (or even left to right as this project is symmetrical).
14 grey, 6 yellow, 14 grey, 24 yellow, 4 pink, 24 yellow, 14 grey, 6 yellow, 14 grey.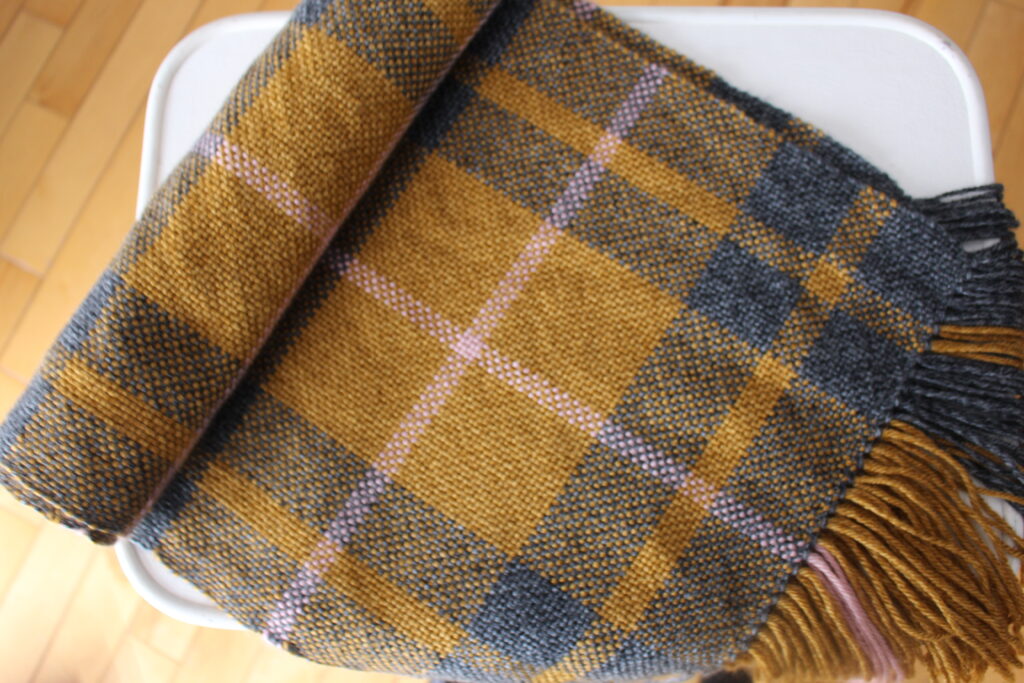 For the weft, I like to plan as I go. For this scarf, I did a replica of the pattern of the warp. As this was a balanced weave, I could weave the same number of threads in the weft as there were in the warp. Although for this project I also measured the stipes:
2 inches of grey (14 threads)
1 inch of yellow (6 threads)
2 inches of grey (14 threads)
3 inches of yellow (24 threads)
Half inch of pink (4 threads)
3 inches of yellow (24 threads)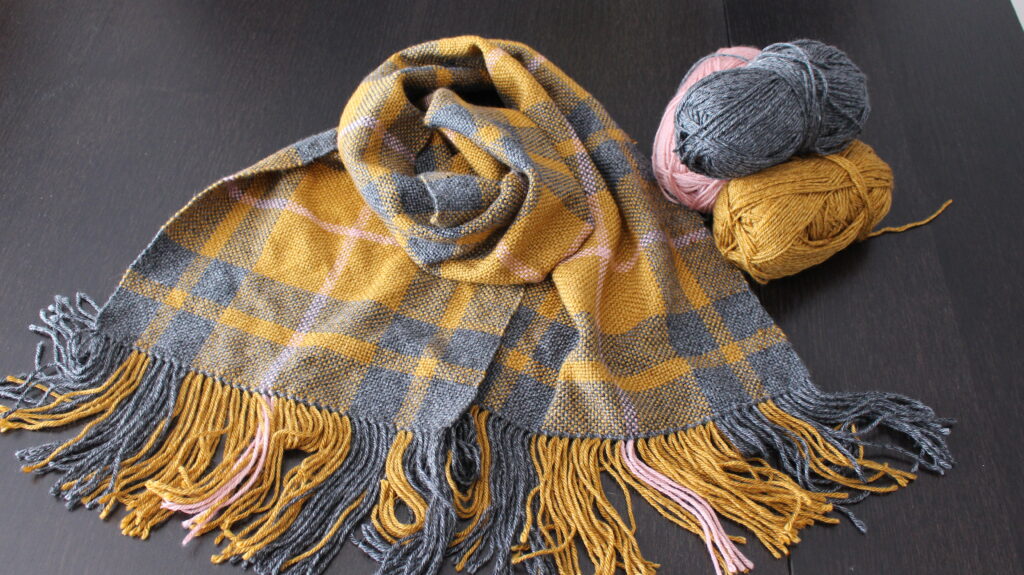 And I repeated this sequence all the way through. I also made sure that the beginning of the scarf and the end would be the same. To do so, I had to make sure to finish weaving with grey. I simply had to know when to stop weaving which was at 1m83 (73"). There was still a little more warp that could be woven but I had to stop to keep the integrity of the pattern.
I hemstitched both ends. Here are the final dimensions of this scarf. I warped a length of 2.5m (100") and a width of 16". I wove for about 1m83 (73"). After wet finish, the scarf was 1m76 long and 36 cm (14.5") wide. On top of that, I left fringes of 15 cm (6") on each end.