Simple Handwoven Cotton Dish Towels
Here's a simple, yet beautiful pattern for dish towels that I wove using my rigid heddle loom. It only requires two colors: beige and green. Still, you could add more colors if you wanted to. Plus, this pattern requires only plain weave which means that no color changes is needed while weaving those simple handwoven cotton dish towels.
Disclaimer: Links included on this page might be affiliate links. This means that if you purchase a product or service with the links that I provide, I may receive a commission. Please note that there is no additional charge to you. Thank you for your support!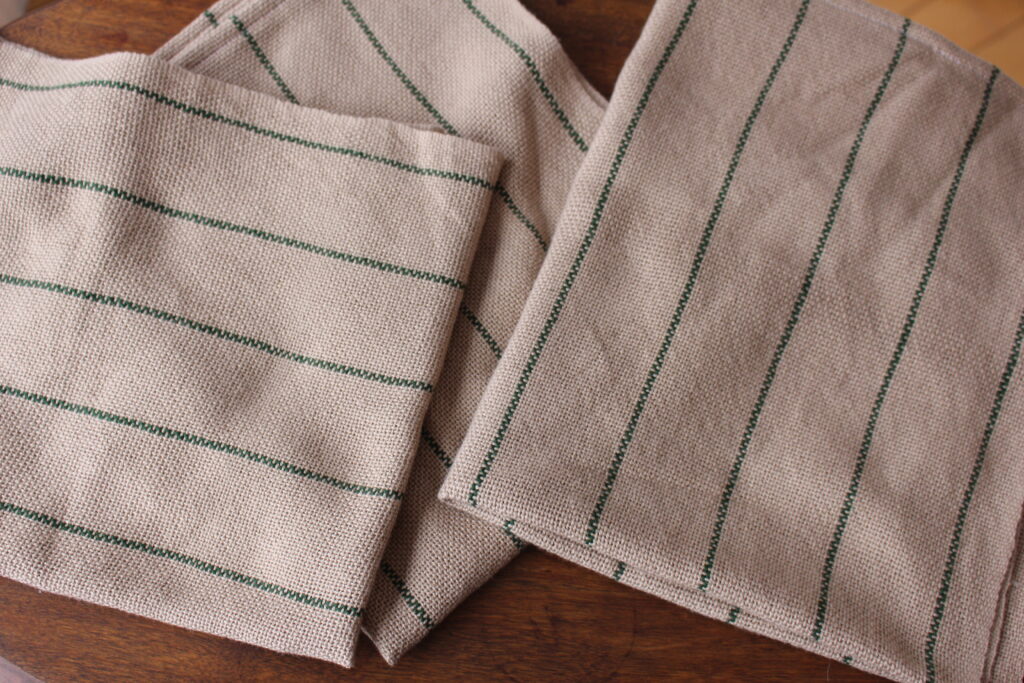 The dish towels were woven using Brassard 8/2 cotton for both warp and weft. I love using Brassard cotton for my projects because it is really good quality and it comes is a large variety of colors. Also, it's very absorbent and it is perfect for sturdy dish towels!
Here's where you can buy the same yarn. Note that the colors used are Ivoire (1451) and Olive fonce (8266). https://woolery.com/maurice-brassard-cotton-yarn-8-2.html?aff=214
For the warp, I singled the threads in my heddle size 15 dpi (30/10). I did not feel the need to double the warp threads. The final cloth is thin and has a nice drape which is perfect for doing the dishes!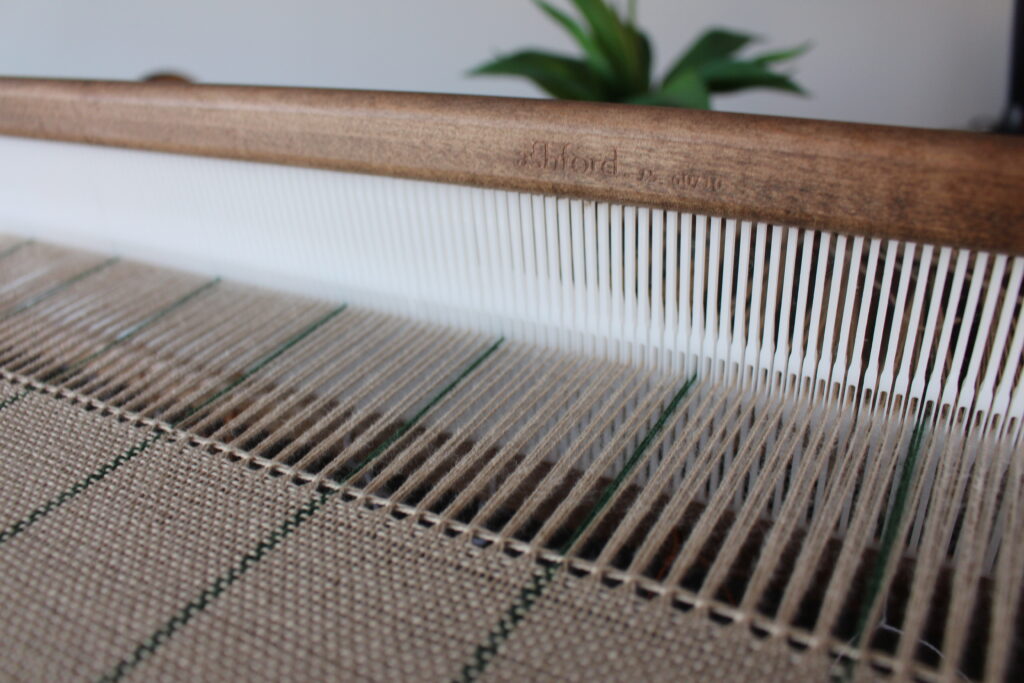 The Pattern
For the pattern, everything happened in the warp. I used beige yarn for most of the warp and I added a simple touch of color in the form of stripes. I used dark green to create those thin stripes of color. Still, any dark color such as navy blue or burgundy would have worked great. I added the stripes of color at every 2". In other words, I warped 2 inches of beige, then I added one stripe of green. After, I warped for 2 more inches of beige and I added another stripe of green. I continued like that until I reached a width of 24" (60cm).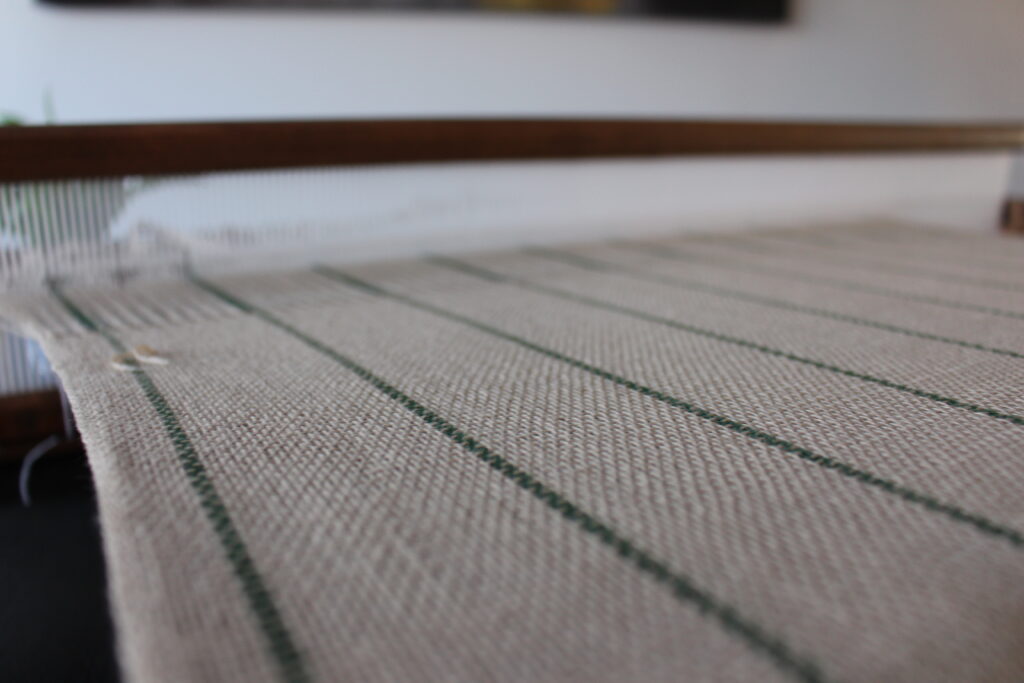 The green stripes were thin as they were made with only two threads. This means that while direct warping, I only pulled one loop of the green color. Then I had one thread of green in the hole and one in the slot of my heddle.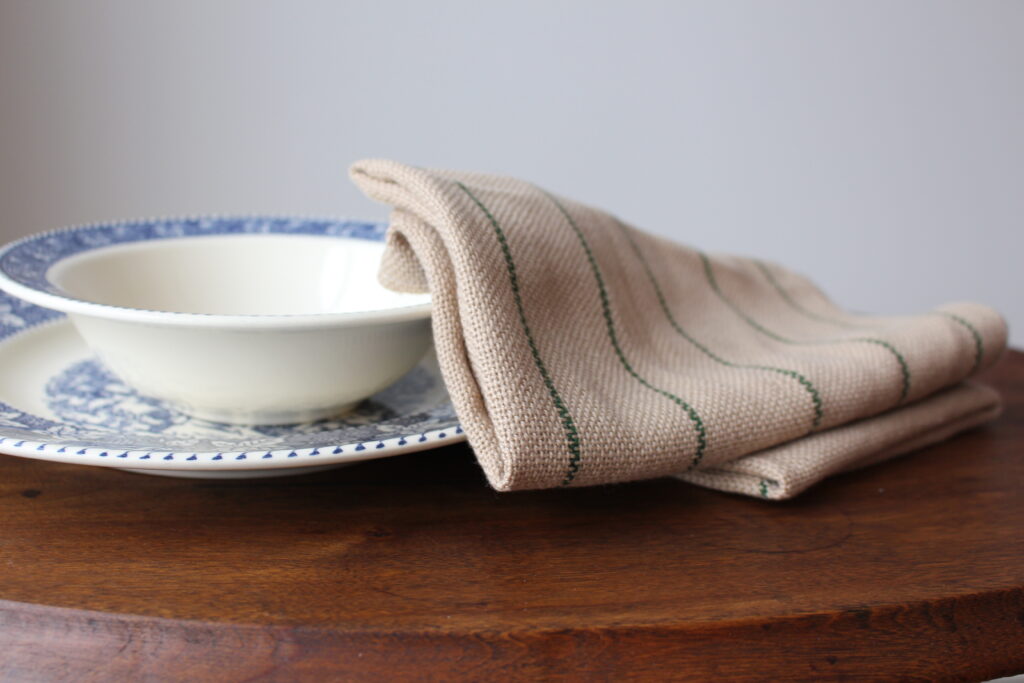 Then for the rest of the project, I wove plain weave. I warped for 104" (2.6m) and I managed to weave for 84" (2m10). Once the project was off the loom and washed, I had about 75" (1m87) of fabric. I then cut it into 3 dishtowels of about 60m (24") each. I hemmed the ends with my sewing machine.