Weaving Rustic Christmas Dishtowels
As I am writing this, the Christmas season is upon us and we can feel the holiday fever settling in! For us weavers, this usually means that we have an urging need to be weaving! This year, I decided to weave a set of two Rustic Christmas dishtowels to give away as gifts for my loved one. I made a tutorial retracing the steps I took from the planning of the warp pattern, to the warping and finally to the weaving of those rustic Christmas dishtowels!
Disclaimer: Links included on this page might be affiliate links. This means that if you purchase a product or service with the links that I provide, I may receive a commission. Please note that there is no additional charge to you. This helps me keep going and create more tutorials.
The Materials
As always, I wove this project using my beloved 32" Ashford rigid heddle loom and I used my 15 DPI heddle. For both warp and weft, I used Maurice Brassard 8/2 cotton. The colors I chose are Olive fonce (8266), Ivoire (1451) and Rouge Vin (5115). There are available for purchase through The Woolery Website.
https://woolery.com/maurice-brassard-cotton-yarn-8-2.html?aff=214
For this project, I wanted to have a rustic feel. This is why I chose a more beigy color instead of bright white. I also chose dark green and dark red to also have more of an old-fashioned country side effect.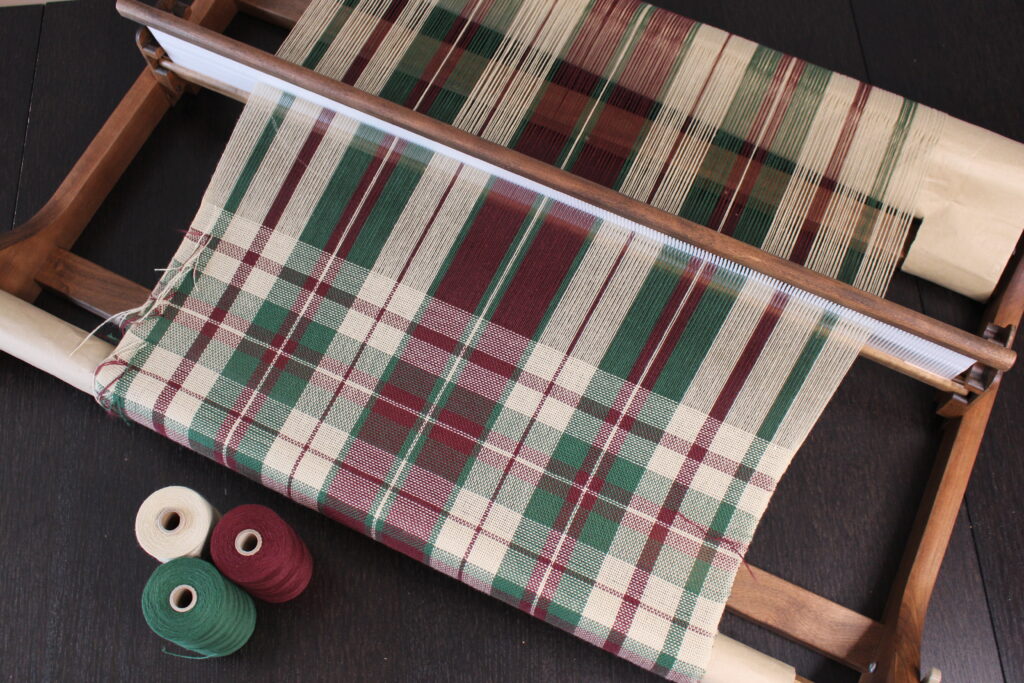 Planning the Warp Pattern
For those rustic Christmas dishtowels, I really wanted to play around with the chosen colors. Still, I didn't want the pattern to be random. With the help of excel, I planned it all out before starting warping.
There exists weaving software that can help you plan patterns. However, most of them are not free and some of them are not easy to use at first. This is why I chose to plan my pattern using a Spreadsheet. They are commonly used, and there exists free programs, such as Google Sheets that can be used. Spreadsheets are not perfect, but they work just fine for the scope of my projects.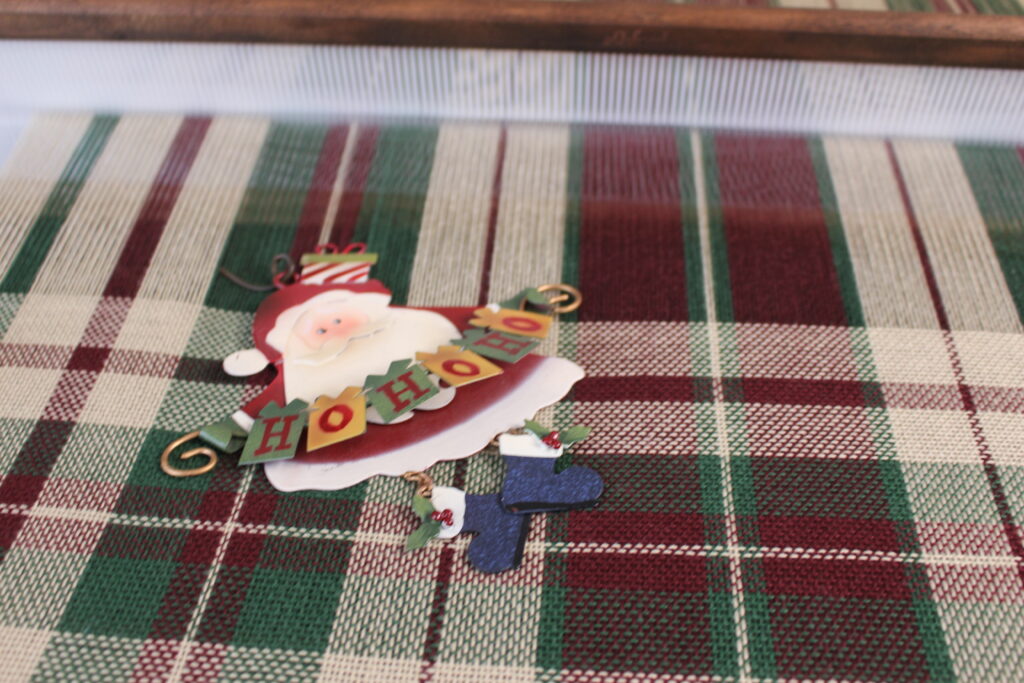 Calculations
Before going any further, we need to do the math. I wanted the dishtowels to be 24" wide while using my 15 DPI heddle and not doubling the warp threads. Thus, I would get a 15 ends per inch. This means: 24 inches wide times 15 ends per inch equals to 360 ends in total. This project was direct warped. If you are familiar with this method, you will recall that when we warp, we pull loops of yarn through the heddle. Those loops then create 2 threads of yarn. To simplify the use of the Spreadsheet, I took that into consideration. This is why I created 180 columns instead of 360. When warping, I will know that each column is a loop, so 2 threads.
The Color Pattern
I started planning out the color pattern. This is when the fun began! Starting from the middle, I made sure to have an asymmetric pattern. You will notice that I have 3 "blocs" of color: the big one in the middle, and then 2 identical blocks on each side. Then, I separated those blocks of color with the Ivory and splash of the other colors.
Here's a screen shot of the pattern.

Here's the threads count from left to right:
18 Ivory, 8 green, 18 Ivory, 8 red, 16 Ivory, 16 green, 6 red, 2 Ivory, 6 red, 16 green, 16 Ivory, 2 red, 16 Ivory, 4 green, 24 red, 4 green, 2 Ivory, 4 green, 24 red, 4 green, 16 Ivory, 2 red, 16 Ivory, 16 green, 6 red, 2 Ivory, 6 red, 16 green, 16 Ivory, 8 red, 18 Ivory, 8 green, 18 Ivory
Getting Warping
Then it was time to set things up for warping. You will notice that I do not use the peg that comes with the loom. I prefer direct warping horizontally. There are many ways to do it. I recommend testing things and see what works best for you. For me, I used what I had on hand, which was a step ladder, a drape pole, heavy books and rubber mats.
I warped for 2.6m (104"). This is enough length to weave two dishtowels of 1m (40") each and to take account for waste.
Then I just followed my pattern! I let the computer on the corner of the table. For every color, I counted the number of predetermined columns on my file and I warp the same number of loops.
The Weaving
Then it was time for weaving! I finally decided to make the two dishtowels different. The first reason is because I wanted to show you how the same warp can make different and interesting patterns. The second and most important reason is that the first dishtowel required so many color changes that it took forever to weave. I was frankly scared I would not be done by Christmas.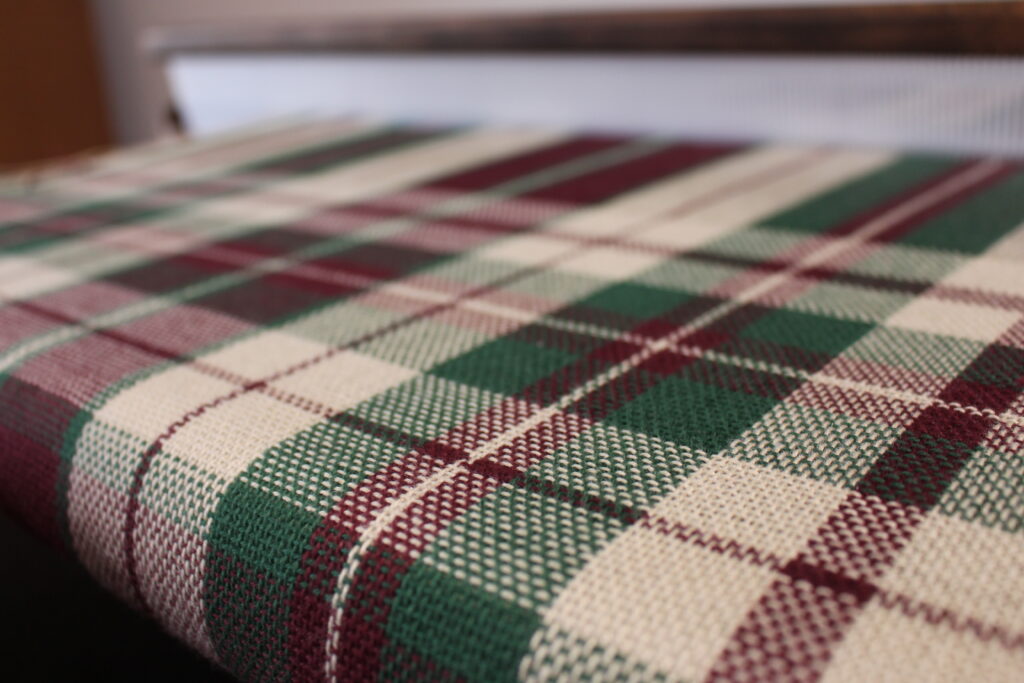 The 1st Dishtowel
For the first dishtowel that I wove, I tried to go for a pattern similar to plaid. To do so, I did the same strategy as in my tutorial Weaving Plaid. This means that I wove each color that I meet in the warp in the weft. Doing so, I made sure that when the warp and weft stripes meet, that it would make a square. This is because this project is not a balanced weave. This means that I did not have the same amount of threads per inch in the warp and in the weft. So, I just wove until the meeting point made somewhat of a square. Then, I cut the weft yarn and it was up to the next color of the warp.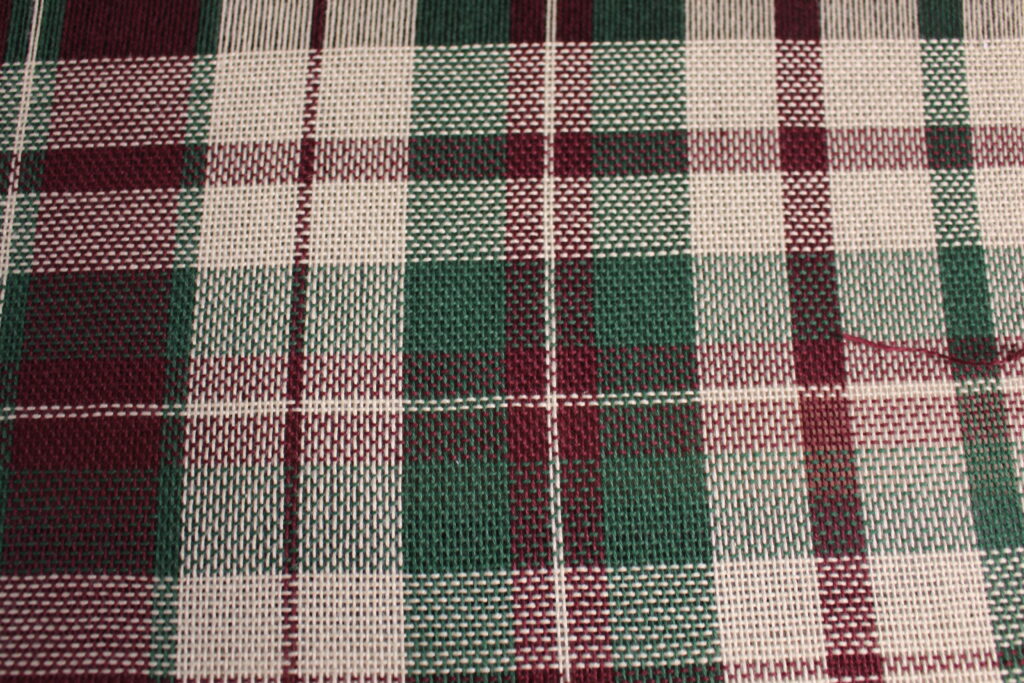 The 2nd Dishtowel
For the second dishtowel, I didn't want to make as many color changes, but I still wanted to make it interesting. This is why I mainly wove with the Ivory color and a made a block of color at the beginning and at the end of the project. For this block, I repeated the same pattern I had in the middle block of the warp pattern.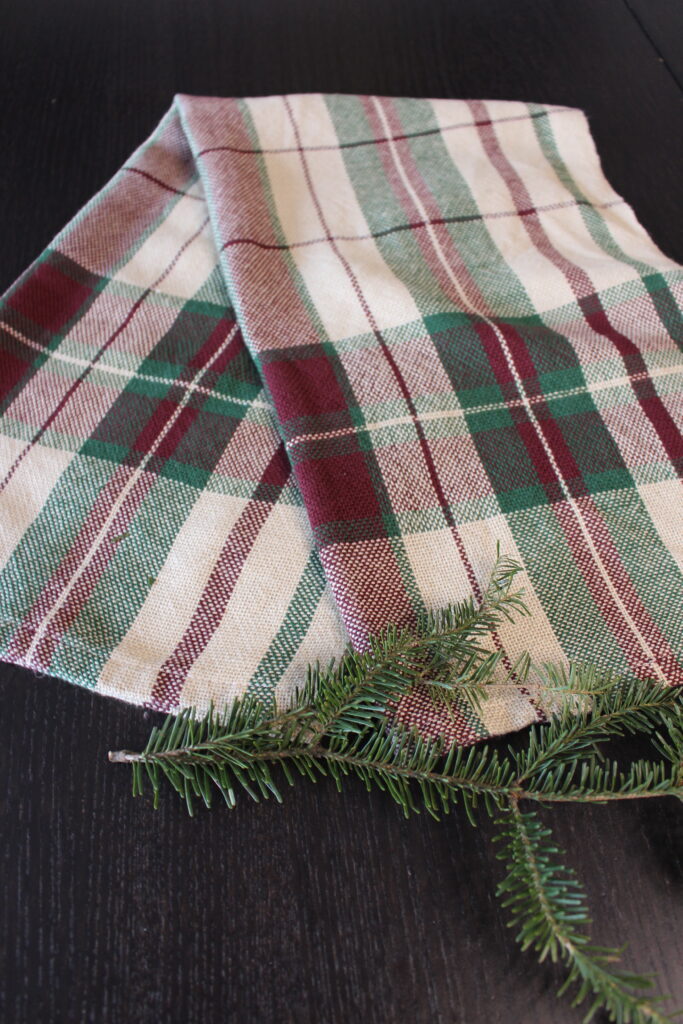 I also added a few rows of red in the body part of the towel. Here are the exact woven dimensions:
6" of Ivory
1 bloc of color (the same pattern as in the middle bloc of the warp) It measured 5"
3.5" of Ivory, 2 picks of red (I repeated this 5 times)
1 bloc of color (the same pattern as in the middle bloc of the warp) It measured 5"
6" of Ivory
Here's the final effect! I feel like weaving those rustic Christmas dishtowels really prepared me for the holiday season.